Thank you to Sister Barbara Brumleve, SSND, for sharing with us these wonderful action items and historical tidbits that she pulled together for this month's Mission Integration Bulletin, which she creates for our sponsored ministry, Notre Dame Prepatory School, as their Identity and Mission Integration Facilitator.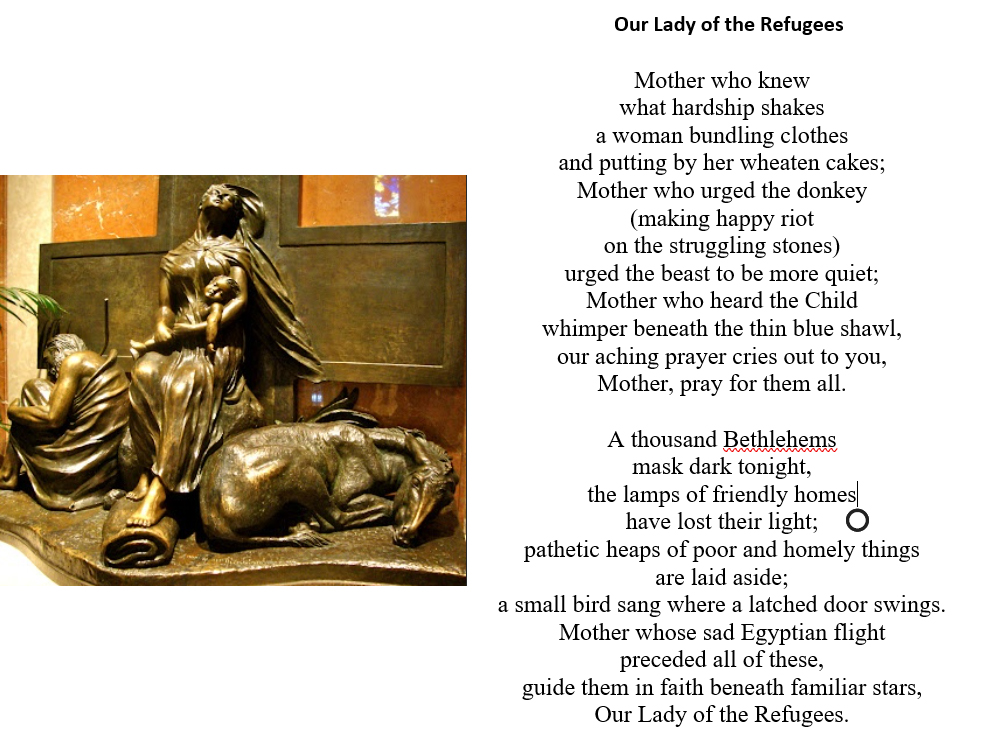 Sister Maura Eichner, SSND's poem—along with US news, the United Nations, and Pope Francis--all are raising the issue of refugees and immigrants.  Within the past six months most member states of the United Nations finalized a Global Compact for Migration, the first-ever UN global agreement on a common approach to international migration in all its dimensions. The global compact, non-legally binding, is grounded in values of state sovereignty, responsibility-sharing, non-discrimination, and human rights, and recognizes that a cooperative approach is needed to optimize the overall benefits of migration, while addressing the risks and challenges for individuals and communities in countries of origin, transit and destination.
The United States and several other countries are not signers of this Compact, but Pope Francis has called for it in his encyclicals.  He has also assumed personal oversight of the Migrants and Refugees office which he established in 2017.  Consistently, Pope Francis uses four verbs when he writes of migrants and refugees:  we are to welcome them, protect, advocate, and integrate (not assimilate) them.  Good resources for both personal reflection and curricular inclusion are these:
•    http://undocs.org/A/Res/71/1    New York Declaration for Refugees and Migrants, September 19, 2016
•    https://refugeesmigrants.un.org/infographics
•    https://migrants-refugees.va – under "resources" you will find (a) 3-minute video about Pope Francis and refugees and migrants and (b) 42-page booklet "Towards the Global Compacts on Migrants and on Refugees 2018) downloadable in language and file format of your choice.
•    For United Nations infographics on refugees and migrants, click here .  
 
---
January 10, 1849 – third and last missionary group of SSNDs arrived in Baltimore.   These 10 women ranged in age from 19-28, and joined the other two missionary groups of five and eleven for a total of 26 SSNDs who planted SSND in the Americas.  Eleven of the 26 had made their vows as SSNDs before they came from Bavaria, but the rest came as either novices or candidates.  Among the 26 were two Haeckl sisters and three Schmid sisters, whose priest brother also came.  Within the first five years of these women being in the United States, five of them died and two more died in the next five years.  Three of these early deceased are buried at Notch Cliff outside Baltimore.  The numbers, though interesting, do not capture the feelings of the human heart and the actual experience as these pioneer women, like many other pioneers, lived through these events.
---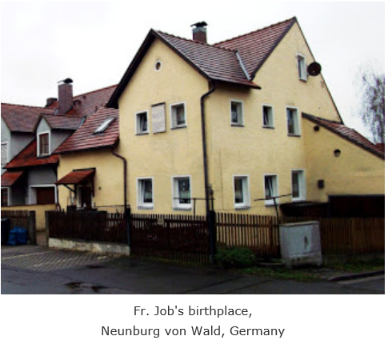 Father Francis Sebastian Job, born January 20, 1767, and Father (later Bishop) George Michael Wittmann, born four years earlier on January 23, 1763:  these two men were key figures in the circle of friends around Caroline Gerhardinger and the early years of the SSNDs.  They shared with her an educational vision.  Wittmann was the one who asked Caroline Gerhardinger to begin teaching at Stadtamhof in order that the children's education could continue. Over the next 24 years, he was Caroline's educator, mentor, and spiritual director.  Because of his years as a seminary professor, he was also instrumental in introducing many pastors to the School Sisters.  Father Job was Court Chaplain to the Empress Caroline of Austria.  At the palace in Schoenbrunn, Father Job wrote The Spirit of the Constitutions of the School Sisters of Notre Dame, addressing the question:  How would the SSNDs be different from the older order founded by Peter Fourier and Alix le Clerc?  SSNDs, he wrote, would go out in twos and threes, especially to rural areas, that could not afford a big convent.  They would live simply and educate girls especially for everyday life and as Christian women.  Father Job gave Caroline and the first School Sisters his family home in Neunburg vorm Wald for their first convent, and he promised them his chaplain salary for income.  What happened when both men died within less than a year of each other and within months of Caroline Gerhardinger starting the first house of the SSNDs? That's a story of courage, faith, friends, and the Danube River.