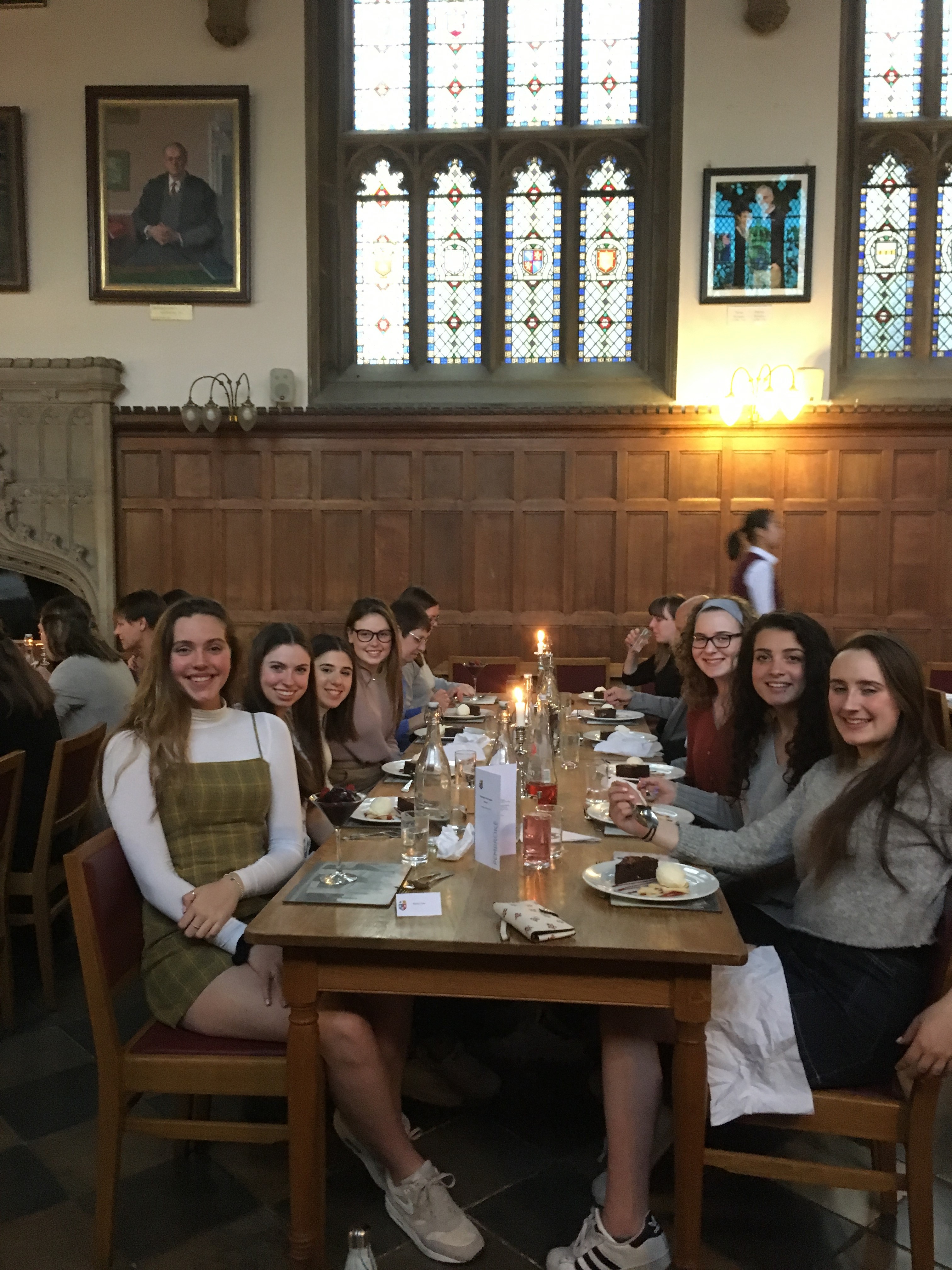 An adventurous group of students from the Academy of the Holy Angels in Demerest, NJ, one of our sponsored ministries, recently spent a week in the United Kingdom at Oxford University's Pembroke College and immersed themselves in a "bespoke" course: one that was tailor-made for them. This is the second spring the critical thinking course was offered. Both times, the curriculum was prepared by AHA English Department Chair Nancy Schneberger.
Schneberger envisioned the course for Academy students while she was attending a 2017 Gilder Lehrman seminar at Oxford. At that time, she met James Basker, founder of the Oxbridge Academic Programs. When she told Basker she wanted to establish a program for AHA, he helped her get in contact with Dr. Richard Michaelis, the Oxbridge program's executive director. Schneberger developed the curriculum, and worked with Michaelis to create a course that would include visits to sites that would enhance the students' study abroad experience.
"I wanted the class to be cross-curricular, and to embrace a variety of subjects, so critical thinking seemed to be the most logical major course, with a minor in oral presentation skills," Schneberger explained. "I wanted the girls to see themselves as global citizens and to become better and more careful consumers of information, along with growing in the ability to express themselves with authority."
Each day, the girls spent 7.5 hours in classes. Extra and co-curricular activities were held afterward.
During the week, the critical thinking class participated in extracurricular activities that included a visit to a Buddhist monastery, where they meditated and heard a brief talk from a monk. They also spent some leisure time at a game café.
Schneberger noted that she developed the bespoke course with an eye toward AHA's philosophy, based on their SSND lineage, which is rooted in transformation of individuals. She also incorporated some of the Academy's growth mindset goals.
"Both classes are designed to have students philosophically engage in evaluative material, to think critically and analytically, and to empower students to speak about their ideas confidently with support from texts and established philosophical systems. The classes encourage intellectual curiosity and an excitement about learning for the sake of learning, without being focused on grades," the educator explained.
The results are apparent at Holy Angels. Schneberger indicated that she has witnessed the course participants' increased self-confidence and willingness to embrace challenges.
"Several teachers noticed a change in formerly reticent students, and in my own class I saw some of the participants engage in classroom discourse with more thought and courage," she added.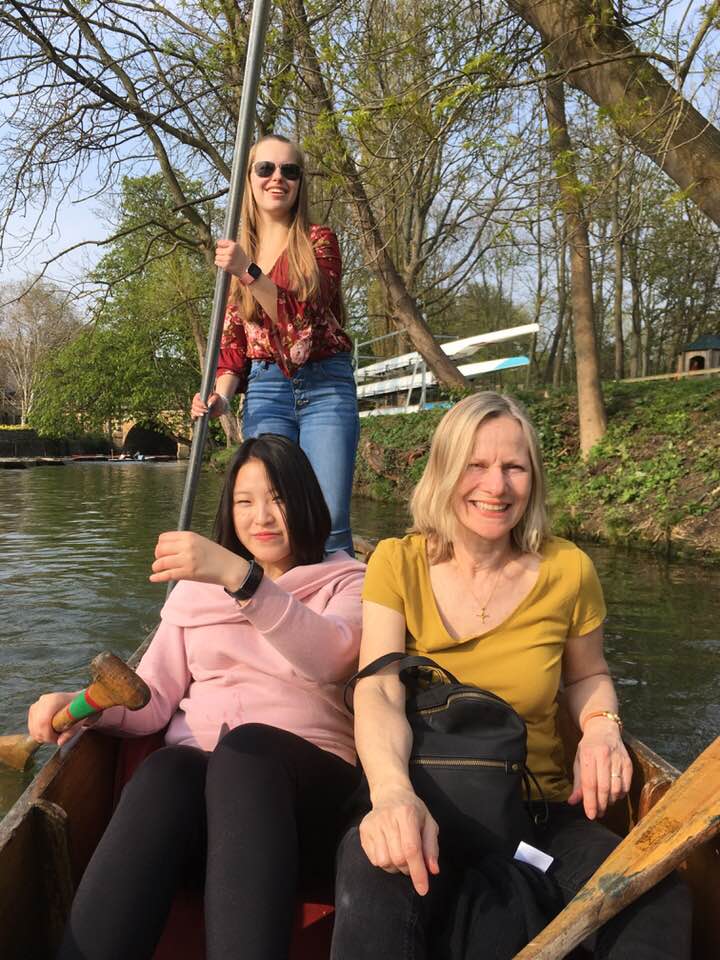 AHA students who studied in Oxford this year included Kristin Anderson, Natalie Andreoli, Cielo Camacho, Erin Choi, Kristina Gatto, Catherine Henry, Elizabeth Kim, Sophia Luongo, Judianne Meredith, Audrey Miller, Madison Oaten, Timea Papp, Anjianie Perez, Kimberly Pienkawa, Isabela Presti , Jasmin Prophete, Areanna Pumayugra, Liliette Quintanak, Kaya Simmons, and Colleen Young.
Five students who attended the program in 2018 returned this spring to take classes in medicine, psychology, and English literature. Those students are Nina Valente, Julia Farah, Madelyn Holmes, Nataleen Orangian, and Paulina Yannitsadis.
Schneberger chaperoned the group with her husband, William, and AHA Social Studies Department Chair Gail Fair.
Timea Papp, a member of the AHA Class of 2019, said she and her peers were permitted to spend lunch breaks and free time exploring Oxford. "The campus itself was spread along the streets, and the architecture was like something out of my art history textbook. One night, we visited Christ Church for a musical presentation of J.S. Bach's 'Saint John's Passion,' which was an incredible showcase of the acoustics of the church," Papp noted. "We visited the Bodleian Library, one of Oxford's largest collections, and learned about the library's history and how it was reinvented over the centuries to keep up with the most modern technologies.
"One of the memorable parts of the trip was going punting on the Thames...and almost getting stranded on the river!" she added. "Thankfully, despite our rubbish punting skills, we were rescued and now have a story to tell about how difficult it really is."
The group also visited Bath, where they enjoyed high tea in the home of Jane Austen, Papp's favorite author. The student said Austen's house gave her insight into how the author lived and the settings she chose for her novels. "This program, other than being culturally eye-opening, was also deeply educational and informative in the classroom. From the critical thinking and public speaking courses, we were able to discover new methods of teaching which were more conversational and interactive than we were used to," Papp said. "The subject matter was something that few of us had thought to study before but were quick to enjoy and embrace as a new way of thinking. We covered topics from Determinism to logical arguments and a series of thought experiments which, although intensely frustrating, were effective in illustrating the difficulties of outlining the grey areas of philosophy in clear-cut black and white."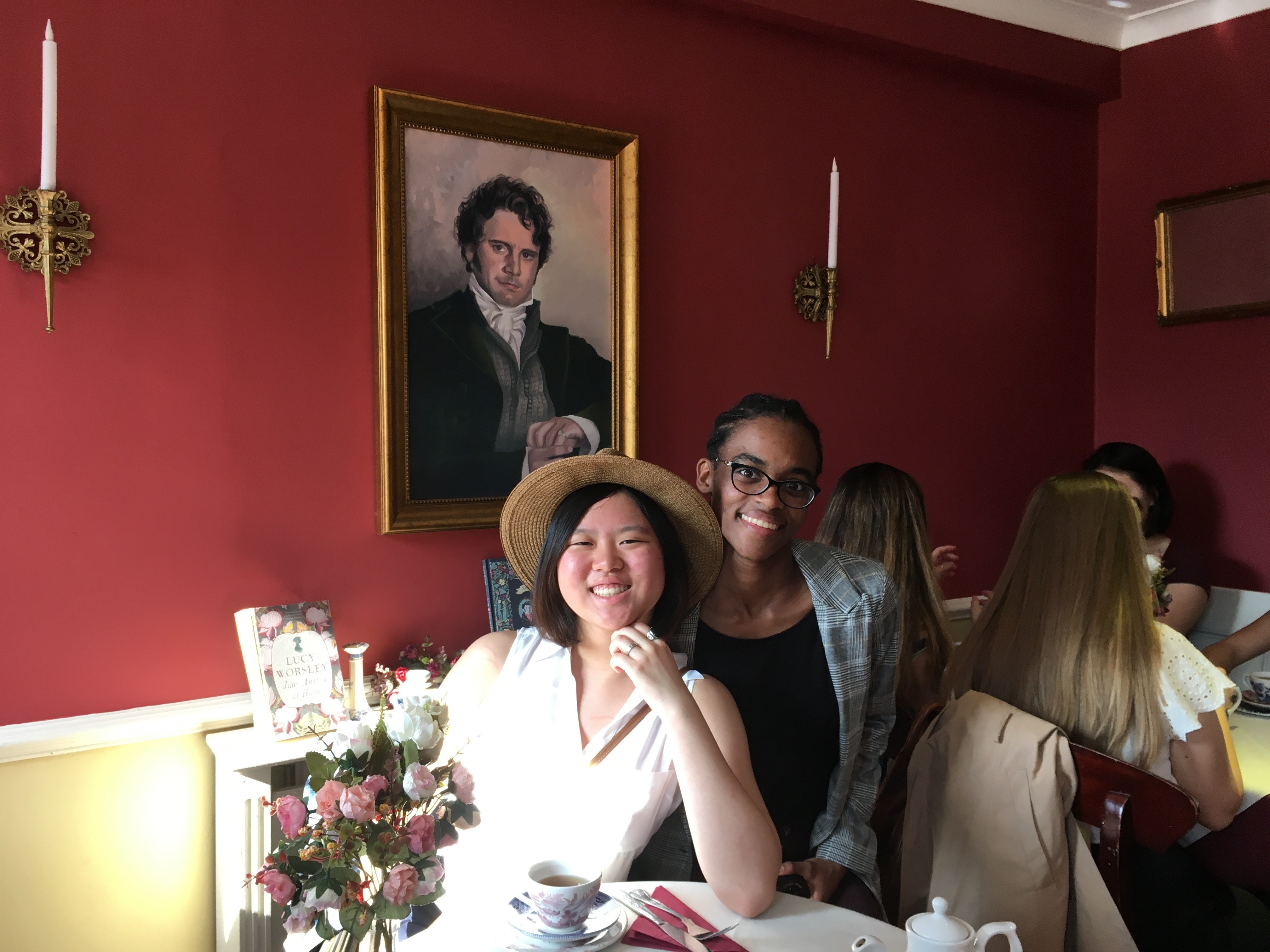 Julia Farah, one of the AHA scholars who attended Oxford in both 2018 and 2019, enjoyed distinct learning experiences on each trip. Last spring, she studied critical thinking and oral presentation. When she returned this year, she delved into medical sciences and psychology.
"I learned about organ systems, cancer, and several diseases, along with treatment options," the AHA junior explained. "The classes I took both years engaged my mind in new ways, and promoted class discussion. The level of difficulty in the classes challenged me, yet my teachers in those classes made sure I was well informed and never doubted me.
"Throughout the trip, I made connections and friendships with girls from the AHA community which I would have never been able to do had I not chosen to return to Oxford. I know these friendships are ones that are very different from the others I have an AHA because of the strong bond that results from traveling to another country. Overall, the trip was unforgettable, the life experience due to my participation in the study abroad program was priceless, and the quality of knowledge I received was unparalleled."
Schneberger said she is looking forward to continuing this program next year.